What is a 4-Wheel Power Scooter and How Does it Work?
In the realm of personal mobility devices, there are several options available to individuals seeking enhanced independence and mobility. One popular choice is the 4-wheel power scooter, also known as a mobility scooter. This device is equipped with four sturdy wheels that provide stability and support while navigating various terrains. It's powered by an electric motor and typically features a comfortable seat, handlebars or a tiller for steering, and user-friendly controls. Similarly, another option to consider is the electric wheelchair. This innovative device offers individuals with limited mobility the opportunity to move around effortlessly. With its advanced electric motor system, it provides enhanced maneuverability and control. Electric wheelchairs generally offer customizable seating options, adjustable armrests, and footrests for optimum comfort. Lastly, there is the battery-powered scooter, which shares similarities with both 4-wheel power scooters and electric wheelchairs. These scooters are designed to provide individuals with a convenient mode of transportation while promoting ease of use and reliability. Equipped with rechargeable batteries, they offer users an extended range for exploration. Overall, these personal mobility devices – including 4-wheel power scooters, mobility scooters, electric wheelchairs, and battery-powered scooters – offer individuals increased freedom of movement in their daily lives. By utilizing advanced technology and ergonomic designs, they have become invaluable tools in enhancing accessibility for people with limited mobility or disabilities.
The Advantages of Using a 4-Wheel Power Scooter with Batteries
One of the significant advantages of opting for a 4-wheel power scooter is the noticeable increase in stability it offers compared to traditional scooters. This enhanced stability is particularly beneficial for individuals with mobility challenges, as it provides a sense of security and reduces the risk of accidents or falls. Furthermore, 4-wheel power scooters also boast improved maneuverability, allowing users to navigate tight spaces and crowded areas with ease. This feature makes them an excellent choice for both indoor and outdoor use, as they can effortlessly maneuver through doorways, narrow hallways, or busy sidewalks. In addition to stability and maneuverability, another appealing aspect of 4-wheel power scooters is their longer battery life. These scooters are equipped with advanced battery technology that ensures extended usage time before requiring a recharge. This not only allows individuals to travel longer distances without worrying about running out of power but also provides peace of mind during long outings or excursions. Overall, investing in a 4-wheel power scooter not only provides increased stability but also improves maneuverability and extends battery life. These benefits make them an excellent mobility solution for individuals seeking independence and convenience in their daily lives.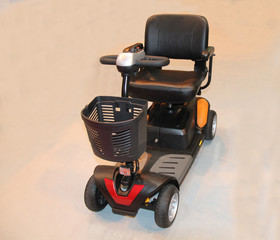 Key Features to Look for When choosing a 4-Wheel Power Scooter with Batteries
When considering a scooter, it is crucial to take into account various factors that can greatly impact your overall riding experience. One of the key aspects to consider is the weight capacity of the scooter. This refers to the maximum weight that the scooter can safely carry. It is important to choose a scooter with an appropriate weight capacity that suits your needs. Battery range is another vital factor to consider when selecting a scooter. This refers to how far you can travel on a single charge. A longer battery range allows for more extended rides without worrying about running out of power. It's essential to evaluate your intended usage and choose a scooter with a battery range that aligns with your requirements. Seat comfort and adjustability play a significant role in ensuring an enjoyable and comfortable riding experience. A well-padded seat with adjustable features allows you to customize it according to your preferences, providing adequate support during long rides. The suspension system of a scooter also plays a crucial role in enhancing overall comfort. A good suspension system absorbs shocks and vibrations from uneven surfaces, providing you with a smoother ride even on bumpy terrains. Considering the quality and effectiveness of the suspension system is important, especially if you plan on using your scooter in areas with rough roads or uneven surfaces.
By carefully considering these factors – weight capacity, battery range, seat comfort and adjustability, as well as the suspension system – you can make an informed decision when choosing a scooter that best meets your specific needs and preferences for an optimal riding experience.
Tips for Maintaining and Extending the Lifespan of Your Battery-Powered Scooter
Proper battery maintenance is crucial for ensuring the longevity and optimal performance of your scooter. Here are some essential tips to help you take care of your scooter's battery:
1. Charging best practices: It's important to follow the manufacturer's guidelines when it comes to charging your scooter's battery. Use the recommended charger and avoid using third-party chargers that may not be compatible or could potentially damage the battery. Additionally, try to charge your scooter when the battery level is between 20% and 80% for optimal results.
2. Avoid overcharging: Overcharging can lead to decreased battery life and potential damage. Once your scooter reaches a full charge, unplug it from the charger promptly to prevent overcharging.
3. Regular usage: Regularly using your scooter helps maintain the health of its battery by preventing it from being idle for extended periods. If you are not planning on using your scooter for an extended period, make sure to follow proper storage guidelines.
4. Proper storage: When storing your electric scooter, ensure that it is placed in a cool, dry environment away from direct sunlight or extreme temperatures as this can negatively impact the battery's performance.
5. Maintenance checks: Periodically inspecting and cleaning the battery terminals can improve its efficiency and lifespan. Ensure that they are free from dirt, dust, or corrosion by gently wiping them with a clean cloth. By following these maintenance tips, charging best practices, and storing your electric scooter properly, you can enhance the overall lifespan and performance of its battery while enjoying a smooth riding experience whenever you need it!
Comparison: Top Models of 4-Wheel Power Scooters with Batteries in the Market
When it comes to 4-wheel power scooters, there are numerous options available in the market that cater to individuals seeking reliable and efficient mobility solutions. These top-rated mobility scooters are equipped with powerful batteries that ensure long-lasting performance and enhance the overall user experience. The best 4-wheel power scooters offer a range of features designed to provide maximum comfort, stability, and maneuverability. They boast sturdy construction, allowing users to confidently navigate various terrains without compromising safety. Additionally, these scooters typically come with adjustable seating options and ergonomic designs for optimal support during extended periods of use. One of the key advantages of these top-rated mobility scooters is their advanced battery technology. Equipped with high-capacity batteries, they provide extended travel range on a single charge, allowing users to go about their day without worrying about running out of power. Furthermore, these batteries are often lightweight and easily rechargeable, making them convenient for everyday use. Moreover, these 4-wheel power scooters offer a wide range of additional features that enhance the overall user experience. These may include LED lighting for improved visibility during nighttime rides or in low-light conditions, spacious storage compartments for carrying personal belongings or groceries, and user-friendly control panels for easy customization of speed settings. In conclusion, if you're looking for reliable and efficient mobility solutions, consider investing in one of the best 4-wheel power scooters available on the market today. With their top-rated performance and advanced battery technology, they provide users with an enhanced sense of independence while ensuring safety and convenience in their daily activities.
Frequently Asked Questions About 4-Wheel Power Scooters with Batteries Answered
When it comes to mobility scooters, safety features are of utmost importance to ensure the well-being of users. These safety features are specifically designed to provide a secure and reliable experience while operating a mobility scooter. Some common safety features include:
1. Stability and Balance: Most mobility scooters come with a stable and balanced design that ensures smooth navigation on various terrains. This attribute is crucial for maintaining user confidence and reducing the risk of accidents.
2. Anti-Tip Mechanism: An anti-tip mechanism is installed in many mobility scooters to prevent tipping over when going over curbs or uneven surfaces. This feature adds an extra layer of stability, enhancing overall safety.
3. Lighting Systems: Many mobility scooters are equipped with front and rear lights, as well as reflectors, to enhance visibility during low-light conditions or at night. These lighting systems make the user more visible to pedestrians and motorists, reducing the chances of collisions.
4. Braking System: Mobility scooters typically have reliable braking systems that allow users to stop quickly when needed. Disc brakes or electromagnetic brakes are commonly used for efficient stopping power, ensuring user safety.
5. Speed Control: Adjustable speed settings enable users to navigate at a comfortable pace according to their preferences or specific environmental conditions. This allows for better control and reduces the risk of accidents caused by excessive speed. Regarding legal requirements for using a mobility scooter on public roads, it's essential for users to understand and adhere to local regulations governing their use in order to ensure both personal safety and compliance with the law. Legal requirements may vary from country to country or even within different regions or states within a country. Some common legal requirements might include:
A. Age Restrictions: There may be specific age limits set by local authorities regarding who can operate a mobility scooter on public roads.
B. Licensing or Registration: In some areas, licensing or registration might be required before using a mobility scooter on public roads.
C. Insurance: Certain jurisdictions may mandate insurance coverage for mobility scooter users to protect themselves and others in case of accidents.
D. Traffic Rules: Users are expected to follow the same traffic rules as other road users, including obeying traffic signals, yielding to pedestrians, and staying within designated lanes when applicable.
To experience enhanced mobility and gain greater independence in your daily life by investing in a reliable and efficient 4-wheel power scooter with long-lasting batteries. This cutting-edge technology is designed to provide you with the freedom to move around effortlessly, whether it's indoors or outdoors. With a 4-wheel power scooter, you can easily navigate through crowded spaces, maneuver around tight corners, and conquer various terrains with confidence. The sturdy construction ensures stability and durability, allowing you to enjoy a smooth and comfortable ride every time. Equipped with advanced battery technology, these scooters offer extended usage time on a single charge. No more worries about running out of power while running errands or exploring new places. You can now embark on longer journeys without any concerns about your mobility device letting you down. The reliability of these scooters is unmatched, providing peace of mind knowing that your transportation needs are met consistently. Whether you're looking for a reliable companion for daily tasks or seeking the freedom to explore new horizons independently, a 4-wheel power scooter is an excellent choice. Furthermore, these scooters are designed with user comfort in mind. Adjustable seats, ergonomic controls, and customizable settings ensure an enjoyable experience tailored to your specific needs. Say goodbye to discomfort or strain caused by traditional mobility aids – embrace the comfort and convenience offered by modern technology. Investing in a 4-wheel power scooter not only enhances your mobility but also opens up new possibilities for socializing, engaging in activities outdoors, and maintaining an active lifestyle. Say yes to the freedom of movement that comes with owning this remarkable piece of equipment. Don't delay! Take charge of your independence today by choosing a reliable 4-wheel power scooter with batteries that will revolutionize how you navigate through life's challenges – ensuring ease of movement while empowering you to live life on your terms!